Interior Design »
Introduction And Collaboration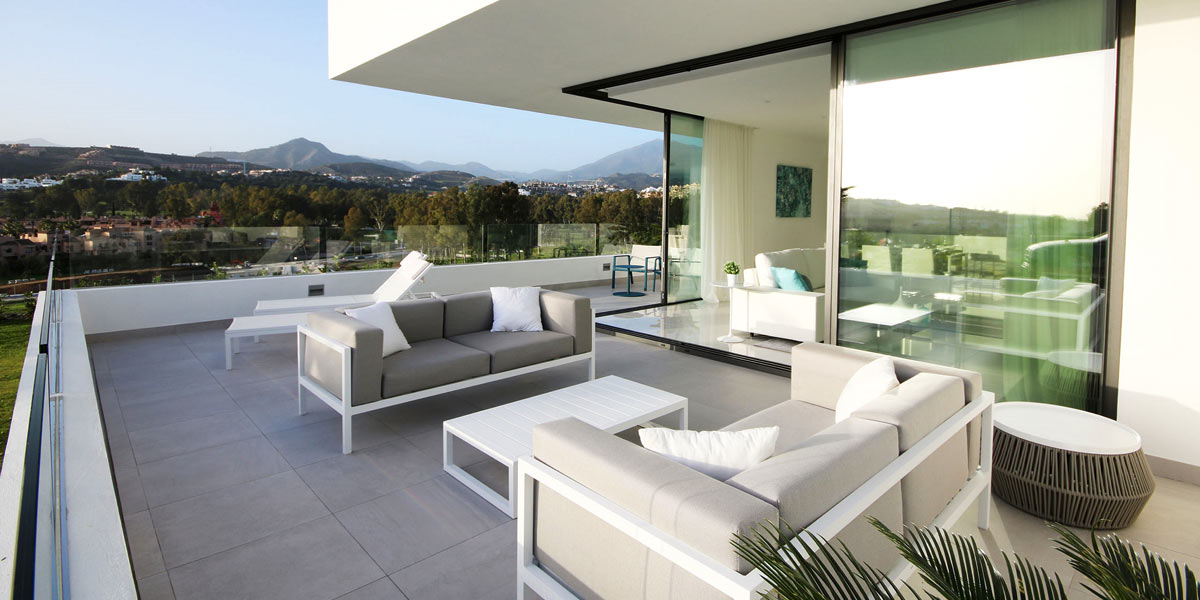 * How and where do I furnish my home or business in Spain and where do I start?

* Where do I find a furniture store that offers good price – quality?

* Where do I find people who are efficient, offer good customer service and speak my own language?
Finding good quality furniture stores WELL PRICED AND MODERN, in Spain is not easy…
Over the years Estepona Living has established 2 main collaborations with 2 different furniture stores; One locally in Spain and One in Holland. Both with extremely good results and happy customers-clients. You will not be disappointed, as both these companies (and people) are very service minded, modern, offering very good price-quality.
1. Modern Furniture Store locally in South of Spain:
We can highly recommend "Bo Concept" in Mijas and Marbella, Costa del Sol.
This originally Danish company is being managed by a Danish couple Jan Petersen and Suzanne Brandt. With their team of interior specialists and designers, they offer very personalized top service and modern furniture concepts. Either in "individual custom made all-in-one-advice" to furnish your house or apartment or in different "furniture package" concepts.
All at different price levels, depending on the budget you have in mind, Bo Concept has a large store with showrooms and furniture (indoor and outdoor) distributed over 2 levels. They can also offer many more styles –materials and furniture objects than on display in the store, but these can be shown to you in different presentations. Enjoying a cup of coffee in a very hospitable and "no pressure" environment.
This is the place if you are looking for MODERN CONTEMPORY furniture, personalized service and good price quality! Also, they can show you different show flats and houses already furnished on the Costa del Sol over the years.
2. Furniture concept from Holland
As previously it was difficult to find good furniture stores in Spain, it was for this reason during January 2008 that Estepona Living and well known Dutch Interior Designer Erwin Hamming-Schott introduced a whole new furniture concept to the Spanish Costa del Sol. This concept includes decoration-colour and space advice.
Erwin Hamming-Schott, Interior Design and furniture in Spain

Modern yet warm

Luxurious yet affordable

Discrete yet recognizable

Easy and Pleasant

Efficient and Personal
Thanks to this furniture concept all Interior Design matters can be arranged in a much easier, more efficient and relaxed way. This "all-in-one service" comes from one of Europe´s largest furniture malls, with over 52 furniture stores under one roof.
The perfect solution to all your furniture needs in Spain!
Since the start of this succesful collaboration many individual clients have (re)decorated and furnished their houses and apartments in Spain using the benefits of this concept. Over the last few years Erwin Hamming-Schott has also furnished several show flats in the Estepona-Marbella area, all of which are located in prestigious new build projects.
Besides his work for individual clients, Erwin Hamming-Schott has also project managed various large renovation/restyling projects for companies, offices, restaurants and hotels.
Main priorities in establishing a proper Interior plan are clients´ individual taste, wishlist, intentions, family situation and budget.
Estepona Living is responsible for all Public Relations activity in Spain.

Should you have any questions or wish to make an appointment to discuss this further, please contact: info@esteponaliving.com