General Information »
Restaurants & (Beach) Bars ESTEPONA – MARBELLA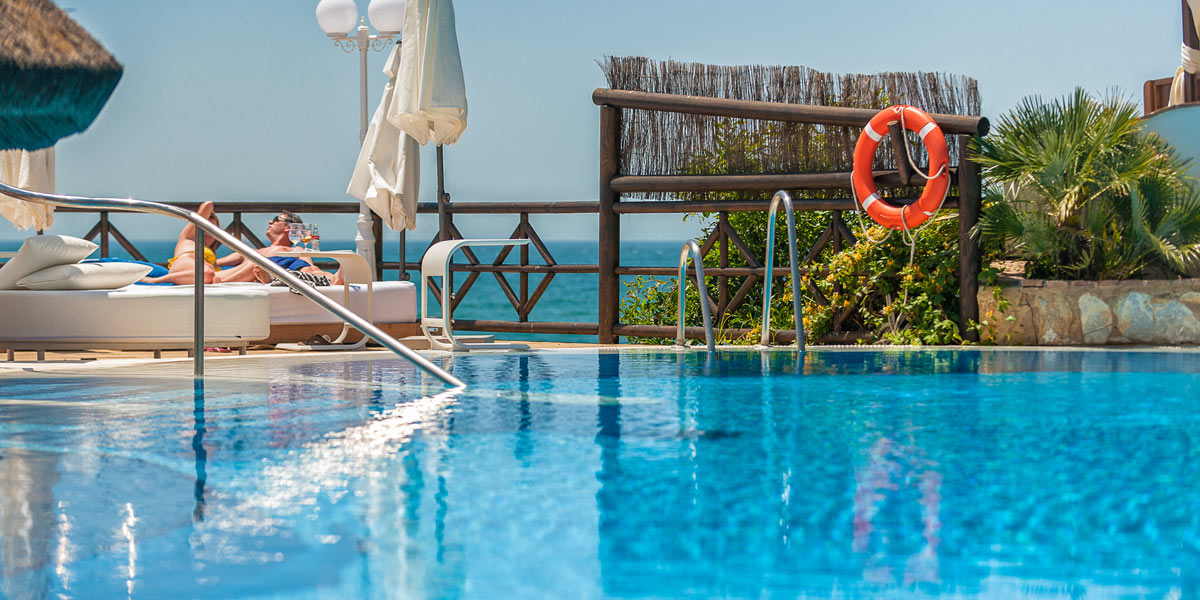 Estepona has many beautiful beaches situated along its 21 kilometers of coastline; all beaches vary in size, facilities and location.
Estepona East "the New Golden Mile": Playa Punta de la Plata to Playa the Atalaya.
The most popular Estepona beaches are Playa de la Rada, Playa Cristo and Playa del Padron.

Estepona Beaches from West to East:
1.- Playa La Galera : 960 m
Estepona km 148. Natural rocky environment. 10 minutes West of Estepona centre. No facilities.
2.- Playa de Bahía Dorada : 1.120 m
Estepona km 149. Beautiful cliffs and rock formations. No sandy beach. Houses and urbanizations have been built close to the beach.
3.- Playa de Arroyo Vaquero : 585 m
Estepona km 151. Beach by the Arroyo Vaquero river. Ideal for walks. No facilities.
4.- Costa Natura : 400 m.
Estepona km 150.5 Naturist (nude) beach with naturist resort. The houses reach right up to the edge of these 3 beaches. The beach is full of little rocks and grey sand. As these beaches are so long and interconnected, they are ideal for a long stroll.
5.Playa del Guadalobón : 1.860 m.
Estepona km 152. It is the first of three practically equal beaches, where there are various houses overlooking the beach.
It is formed of grey sand and boulders.These beaches are ideal for running or any sporting activity.
6.- Playa del Cristo : 680 m.
Set in a shallow sheltered cove just West of Estepona Marina. Cosy beach bars and nice ambiance. Ideal for small children (shallow up to 50 meters from the shore). Sunny till late at night with nice sunset. Sunbeds for rent at the 2 beachbars or bring your own things with you. The chiringuitos offer food till around 6-7pm. Lifeguards available in summer. This beach has been awarded the Blue flag of quality.
7.- Playa de La Rada :2.630 mtr long-25 mtr wide (Estepona Centre).
Located along the Estepona boulevard this is the largest beach of Estepona, offering many beach bars (chiringuitos) and numerous other facilities. This beach is easy walking distance to the old town and port of Estepona. All the chiringuitos (12 in total) have beachchairs and offer great food. Parking is easy in the carparks below the Estepona Boulevard. Children play areas are situated in various places on the beach and boulevard. This beach was awarded the blue flag for safety and cleanliness. Because of its size this beach never gets overcrowded, even in the high season.
8.- Playa Punta de la Plata: 2.220m
Estepona km 158. Very close to the town centre of Estepona, this is a grey-sand, pebbled beach. It can be easily accessed between two housing estates. Various urbanizations are located on this beach (the beginning of the New Golden Mile). From here you can enjoy nice beachwalks to Estepona boulevard or Laguna Village.
9.- Playa del Padron 910 m – Estepona East, km 159.
This beautiful beach situated next to the 5 star Kempinski Hotel has nice views and offers lots of entertainment in summertime: Laguna Village with its nice boutiques, restaurants and beachclubs (www.laguna-village.com). Watersport activities are available at the watersport centre, situated in the Kempinski Hotel.
10.- Playa de la Punta Pinillo: 1.290m
Estepona km 158. Situated close to the river Rio Padron. There are some beautiful urbanizations located on this beach. Estepona, Laguna Village and the Kempinski Hotel are all within easy walking distance.
11.- Playa de Velerin: 750 m.
Estepona km 162. This is a long, wide beach. Cross the river Velerín in the direction of Malaga and follow the track that leads to the car park. There is a Red Cross post and showers are available on the beach.
12.- Playa Del Castor : 2.040 m
Estepona km 161. Peaceful beach on New Golden Mile. Not many facilities. Urbanizations.
13.- Playa Bella : 1.220 m.
Estepona km 163. Narrow long stretch of beach, with some nice urbanizations. A few beach bars, restaurants and other facilities.
14.- Playa del Guadalmansa : 1.370 m
Estepona km 164. Narrow long stretch of beach, with some nice (luxury) urbanizations. A few beach bars, restaurants and other facilities.
15.- Playa Del Saladillo : 2.630 m
Estepona km 166. Quiet beach. It has great facilities for the kids together with beach chair rentals. This area of the New Golden Mile also has some luxury urbanizations, restaurants and hotels.
16.- Playa de La Atalaya: 1.070 m.
Estepona km 169. Beach which leads on to the Guadalmina River.