Algemene Informatie »
Accomodatie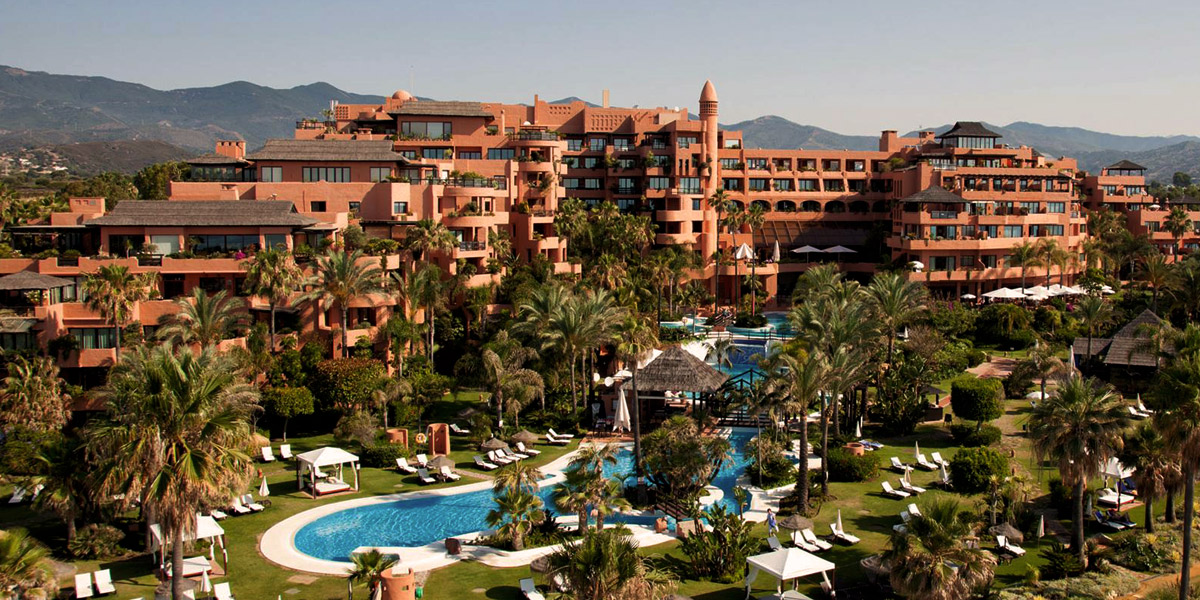 Wie zich in de regio Estepona wil oriënteren of er op vakantie gaat, wil graag verblijven in aangename en comfortabele accomodatie.
Estepona kent de laatste jaren een groeiende selectie goede en luxe hotels op verschillende locaties en in verschillende prijsklassen.
Het indrukwekkende Kempinski hotel aan de New Golden Mile biedt 5 sterren luxe, maar ook elders aan het strand of in de oude stad heeft Estepona genoeg andere goede opties om uit te kiezen. Alles is mogelijk!
Estepona Living geeft u hierbij een overzicht van goede prijs-kwaliteit accomodatie in Estepona en in de omgeving, waarbij alle geselecteerde hotels op maximaal 15 auto minuten van Estepona centrum liggen. Ingedeeld in verschillende categoriën beschikken alle hotels over comfortabele kamers en/of suites, goede faciliteiten, ligging en service.
Voor aanvragen m.b.t. beschikbaarheid en extra informatie dient u zich direct tot de betreffende hotels te wenden.
Estepona Living Selection of Hotels
We also have a few rental apartment options in Estepona.
You can contact us for more details.
***** 5 star Deluxe Hotels
Kempinski Hotel Bahia Estepona GL
(1999, Kempinski hotel group)Ctra de Cadiz (A-7) km 159, Playa el Padrón, New Golden Mile, Estepona East.
296 Rooms and suites in a high quality modern resort with lush tropical gardens. Only 2 km to Estepona town at the beginning of the New Golden Mile, walking distance to Laguna Village. Quiet location on the beach.
Tel: +(34) 952 809 518. F. 952 809 500
Email: agp.reservation@kempinski.com
Website: www.kempinski.com/estepona
Gran Hotel Elba & Thalasso Spa GL
GL (2005- Small luxury hotels of the world) Urb. Arena Beach, Crta de Cadiz
(A-7) km 151, Playa Guadolobon, Estepona West.
138 Rooms and 67 suites, on the beach, only 3 km (few minutes drive) to Estepona port.
Quiet location on the beach.
Tel: +(34) 952 809 200 F. 952 809 201
Email: estepona.reservas@hoteleselba.com
Website: www.hoteleselba.com
Finca Cortesin hotel Golf & Spa
(2006, Franklyn hotels and resorts)
Crta de Casares (MA8300), km 2, Casares, Estepona West.
67 Exclusive Suites in this unique hotel, situated next to the famous Finca Cortesin golf Course, home to the Volvo World Masters since 2009. 10 minute drive to Estepona town. Quiet location in a mountain-golf setting.
Tel: +(34) 952937800.
Email: reservas@hotelcortesin.com
Website: www.fincacortesin.com/hotel
Gran Hotel Guadalpin
(Guadalpin hotel group). Calle Edgar Neville s/n, Puerto Banus.
181 Rooms and suites, on the beach and walking distance to all facilities in Puerto Banus. 15 minute drive to the East to Estepona.
Tel: 0034 952 899 703.
Website: www.granhotelguadalpin.com
Hotel Villa Padierna
(2001, Ritz Carlton)
Crta de Cadiz (A-7), km 166 (Cancelada exit), Los Flamingos Golf, Estepona East.
129 Exclusive rooms, suites and villas in this stunning hotel overlooking the golf and the mountains. 10 minute drive to Estepona town and 5 minute drive to the beach.
Quiet location in a mountain-golf setting.
Tel: +(34) 952889150. Fax. 952889160
Email: inquiries.padierna@ritzcarlton.com
Website: www.hotelvillapadierna.com


**** 4 star Hotels
Fuerte Hotel Estepona
(2010, 210 luxury rooms and suites, Fuerte hotels), Playa Arroyo Vaquero s/n, A-7, km 150, 29680 Estepona.
The Hotel Fuerte Estepona is a modern frontline beach, new hotel with 210 rooms and deluxe suites with 1, 2 or 3 bedrooms with sea views. Located just West of Estepona at only a few minutes from Estepona port/town and beaches. The hotel has a modern spa, various restaurants and activities.
Tel: +(34) 952 808 020.
Email: estepona@fuertehoteles.com
Website: www.fuertehoteles.com
H10 Estepona Palace Hotel
(2003, H10 hotel group) Avenida del Carmen s/n, Playa Guadalobón, 29680 Estepona
237 rooms and suites on the seafront, in this superbly located elegant hotel with modern architecture. The H10 is located 800 meters West of Estepona Marina (walking distance) , in a quiet location close to the beautiful and sandy Playa Cristo Beach.
Tel: +(34) 952790040. Fax 952797933.
Email: h10.estepona.palace@h10.es
Website: www.h10hotels.com
Holiday Inn Crowne Plaza Hotel
(2006, Holiday Inn Hotels. Avda. dos Hermanas s/n, Urb. Benamara, Crta de Cadiz km 168, 29680 Estepona East, New Golden Mile
146 spacious rooms and suites, divided over 5 floors, in this centrally located hotel between Estepona and Puerto Banus-San Pedro. Walking distance to the (quiet) beach, nice spa and restaurant (5) facilities.
Tel: +(34) 951055500
Email: reservations@cpestepona.com
Website: www.cpestepona.com
Selenza Thalasso Wellness and Spa
(2005, Leading Hotels of the World).
Crta de Cadiz A-7, km 165, Estepona East, New Golden Mile.
91 modern rooms and suites and 21 villas. This modern hotel with large Thalasso Spa (2000m2) is located only 600 meters from the beach and close to everything (central between Estepona and San Pedro/Puerto Banus).
Tel: +(34) 952899499 or 902440070.
Website: www.selenzahoteles.es


*** 3 star Hotels
Hermitage Boutique Hotel
(2009) Crta de Casares MA-8300, km10, Paraje de la Celima, Casares 29690
15 rooms and suites in this new "Andalucian & boutique style" hotel in the mountains of the White village of Casares. Quite secluded (5 minute mountainous drive from the main road to Casares), special and with spectacular views. 15 minute drive to the coast and Estepona.
Tel: +(34) 952895639. Fax.952894145
Website: www.hotelhermitage.es
Hotel Boutique Al-Ana Marbella
(2009) Calle Tamesis, 16, Urbanización Park Beach, 29689 Estepona
A Moorish Style boutique hotel with 9 rooms close to the beach on the New Golden Mile in between Estepona and San Pedro.
Tel: +(34) 606 16 66 82


** 2 Star Hotels
Hotel Ciudad Estepona
Avenida San Lorenzo 32, Estepona 29680.
88 rooms in this centrally located hotel in Estepona old Town, only 150 meters from the beach, completely renovated in 1999 and 20 new rooms were added in 2005. Close to everything in the heart of Estepona.
Tel: + (34) 952806155
Website: www.hotelciudadestepona.com


* 1 Star Hotels
HOSTAL LA MALAGUEÑA
C/Raphael nº1, Plaza de las Flores , 29680 Estepona
You will find "Hostal La Malagueña", in a very picturesque area in the old Town city centre on the "La Plaza de Las Flores".
Build in 1950 and completely refurbished, the hostal will offer 16 rooms in a very privileged situation, right at the city centre, and only 2 minutes walk to the beach.
Tel: +(34) 952 800 011
Website: www.hlmestepona.com